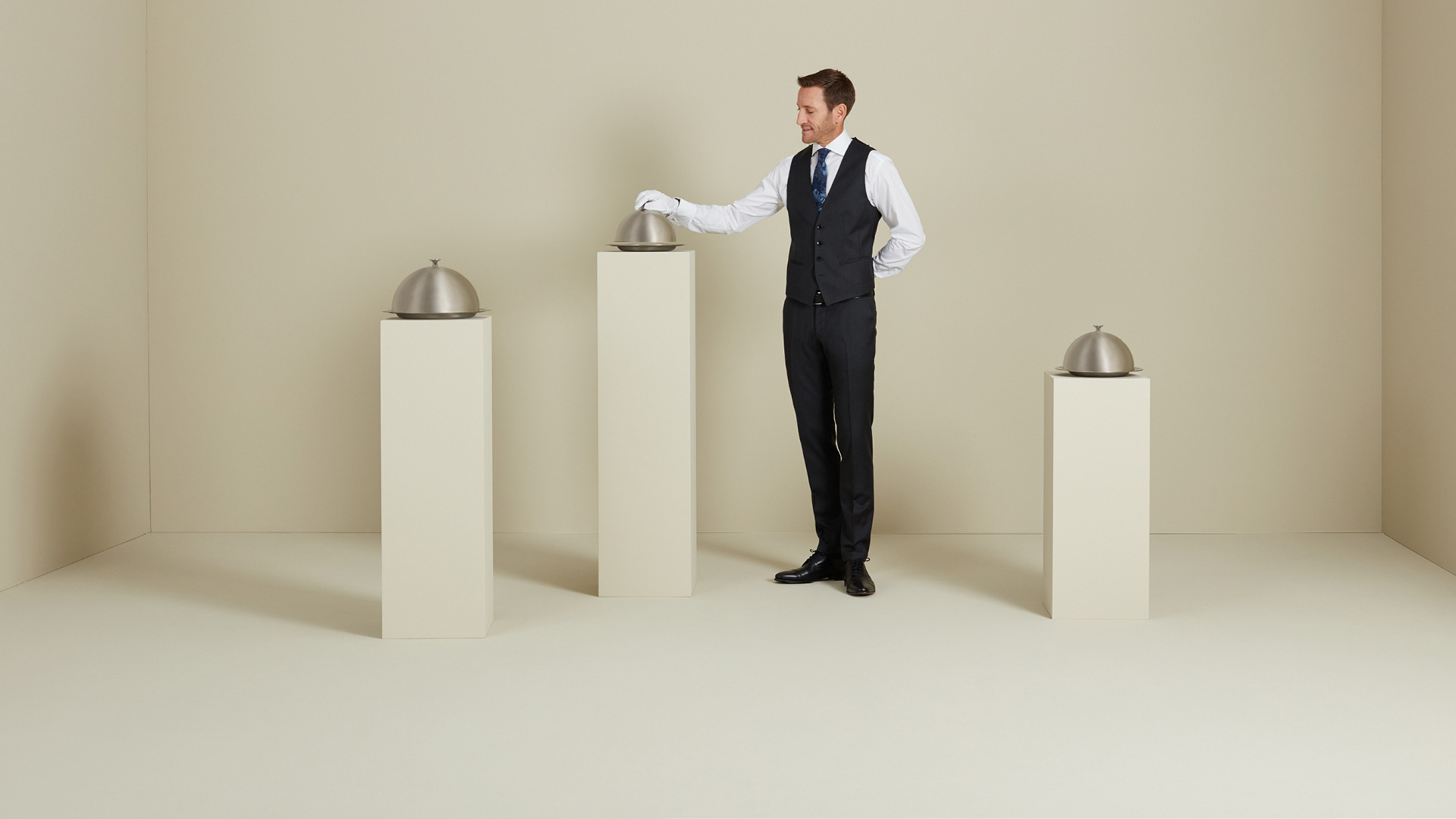 Wealth management
—
The right secret ingredient for every need
Success in wealth management depends not only on the right secret ingredients but also on the right mix. To achieve your financial goals, we not only offer you suitable wealth management mandates but also support you in the area of sustainability.
By leaving the management of your wealth to us, you not only let our experts take on the time-consuming task of looking after your wealth, but also benefit from a truly top-notch solution. The benefits are clear. We analyse the markets daily and actively manage your portfolio based on the investment strategy that we define together with you. Ensuring that you have a robust portfolio is our top priority, which is why your assets are always invested in a broadly diversified approach. We also protect your portfolio against currency risks, and take sustainability criteria into account in the selection of investments.
Acting responsibly is clearly rooted in our corporate culture. We thus incorporate sustainability criteria into our investment process on a systematic basis. Because at VP Bank, we are convinced that taking sustainability criteria into consideration improves the investment decisions we make for you as our client, as it enables better control of risks and better utilisation of opportunities.
So that we can achieve your financial goals together with the necessary finesse.
Benefits of wealth management
More leisure time thanks to the delegation of time-consuming tasks
Active management of your assets
Delegation of investment decisions to selected experts
Access to our worldwide network
The right solution for you, with the best products worldwide
Systematic portfolio monitoring
Stringent risk control
Comprehensive reporting
Consideration of sustainability aspects
With our investment solutions, we offer you a range of different options for your wealth management that are tailored to suit your situation and your investment goals.
Strategy funds enable you to take advantage of VP Bank's expertise even with smaller investment amounts. You benefit from our active investment approach combined with comprehensive risk monitoring.
How you benefit
Continuous analysis of opportunities and risks on the financial markets
Active rebalancing of asset classes in line with changing market situations
Optimal balance between risk and return
First-class implementation based on our best-manager approach
Hedging against exchange rate fluctuations
Tried-and-tested risk management approach
The Classic Mandate is based on VP Bank's proven investment process. You will benefit from the tactical investment decisions and product selection expertise of our financial analysts. The Classic Mandate can be implemented either exclusively with collective investments or, depending on your investment volume, additionally with individual investments.
How you benefit
Configuration options are highly flexible
Use of direct investments
Continuous analysis of opportunities and risks on the financial markets
Active allocation across the different asset classes in accordance with our market assessment
Optimal balance between risk and return
First-class implementation based on our best-manager approach
Broad offer of investment strategies and reference currencies
Simple, comprehensible mandate structure with selected collective investments
Cost-effective investments in funds with institutional tranches
Hedging against exchange rate fluctuations
Help protect the climate and support social change. The Sustainable Plus Mandate combines these values with the convenience of a mandate. The Sustainable Plus Mandate includes investments in microfinance and green bonds and offers you the opportunity to set your own sustainability priorities.
As with our classic mandates, we use the entire spectrum of financial instruments. But, for this mandate, the criteria for sustainability are stricter for both direct and collective investments. The portfolio includes impact investments, and you can decide which sustainability issues are particularly close to your heart.
Your benefits
This mandate is more than just sustainable. "More" means that not only investments are excluded, but those with the best sustainability profile are selected.
The portfolio includes impact investments with which a measurable improvement is achieved, for example green bonds, social bonds and microfinance.
The same fees and minimum investment requirements apply as for classic mandates.
Five sustainability priorities for thematic investments are available to choose from (can be changed at any time): 
1. Environment and climate action
2. Health and demographic change
3. Renewable energies and circular economy
4. Equal opportunity, education and security
5. Sustainable infrastructure
Collective investments with a dedicated focus on sustainability
Three different risk profiles are available: Conservative, Balanced and Growth
The special mandate allows you to include individual requirements and wishes, bringing a corresponding amount of flexibility to the structure of your mandate. To enable us to achieve your financial objectives, we take account of your strategic specifications and your requirements in terms of asset classes, regions or sectors.
How you benefit
High degree of flexibility when shaping your investment strategy and portfolio parameters
Continuous analysis of opportunities and risks on the financial markets
Active rebalancing of asset classes in line with changing market situations
First-class implementation based on our best-manager approach
Tried-and-tested risk management approach