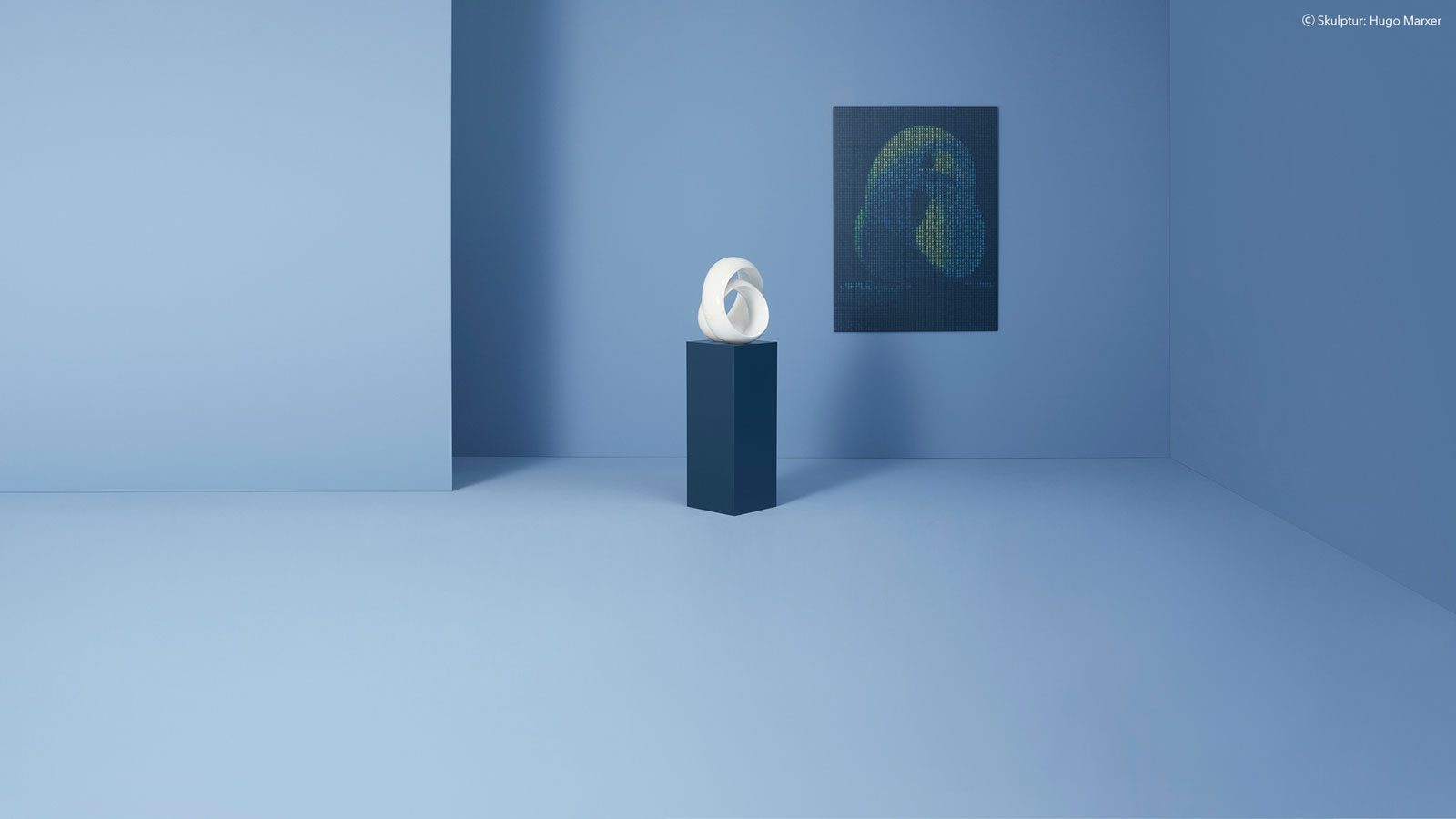 Digitisation of artworks
—
Discover the potential of art tokenisation
Even today, art is an important component of client portfolios, although managing physical assets is complicated and time-consuming. Have your artworks tokenised and simplify the handling of artworks in your portfolio today.
Do you want to tokenise your artwork? As a registred provider for the creation and safekeeping of digital assets, we can support you competently and reliably. Our fully integrated digital custody solution not only meets the highest security standards, but also allows for tokens to be added to your portfolio easily. This means that you can combine the advantages of traditional securities with the special requirements of art perfectly. Our qualified experts will guide you through the process of digitising your art objects.
The advantages of art tokenisation
Using blockchain technology, art objects can be converted into tokens that represent enforceable ownership claims to physical art objects. Art can be easily posted to the portfolio alongside traditional securities through such tokenisation. This creates a complete overview of the assets, which offers numerous advantages. On the one hand, the art objects are presented transparently in the periodic asset statement and can be included in the performance calculation. On the other hand, works of art can be incorporated into the periodic tax invoice. In addition, we also offer customised risk analyses for art collections in collaboration with a specialised provider.
Example: foundations and funds often face the challenge of aggregating specially created lists of illiquid objects, such as paintings, with the data obtained from conventional custody account statements. This will not be necessary if the paintings are tokenised and the tokens are posted to the portfolio. As a result, the periodic asset statement not only contains all assets, but also comprehensive performance calculations of the digital assets. A periodic risk assessment for collections or individual objects can be obtained as an additional service. Such assessment contains up-to-date information on the liquidity, condition, artist and provenance of your works.
Fractionability and shared ownership
Any number of tokens can be created. This makes them ideal for mapping shared ownership of artworks in a cost-effective and transparent way. For example, this can simplify estate planning or the joint acquisition of artworks. Ownership can also be modified easily and reliably by transferring tokens.
Example: a painting no longer has to be sold as part of an executorship in order to ensure a fair distribution of the value among the community of heirs. Instead, tokens can be used to divide ownership of the painting proportionately among the heirs. If an heir wishes to sell his or her share, the tokens can be transferred to an eligible buyer or to the other heirs at the specified value. This means that it is not necessary to sell the painting outright.
Valuation and documentation
Trust is one of the most important prerequisites for being able to operate sustainably in the art market. However, this can be compromised by incomplete or inadequate documentation and can have a negative impact on the value of artworks. For this reason, we start supporting you even before the tokenisation by checking your documents against industry standards and arranging for additional clarifications, if necessary. With this in mind, we will also periodically provide you with an independent valuation source. Experience shows that the resulting transparency is viewed favourably in the art market. What is more, high-quality documentation also gives you a decisive advantage in future transactions. Tokenisation allows you to combine all the advantages of blockchain technology, such as traceability and transparency, with the usual security standards of a regulated bank.
Example: when selling art objects, asset managers are often confronted with the difficulty of providing certificates and confirmations of value and authenticity at short notice. Tokenisation reduces this effort enormously, as we help you to prepare your documentation from the outset so that it can be used again easily in the future. At the same time, a periodic valuation and the traceability of all changes in ownership ensure a complete history. A potential buyer can thus rely on the high quality standard of VP Client Solutions as a regulated third party. Meanwhile, with each transaction, the asset manager actively contributes to improving transparency in the art market.
By tokenising your artworks, you will also benefit from future innovative offers. We are already working on solutions to increase the liquidity and visibility of your art objects as needed.