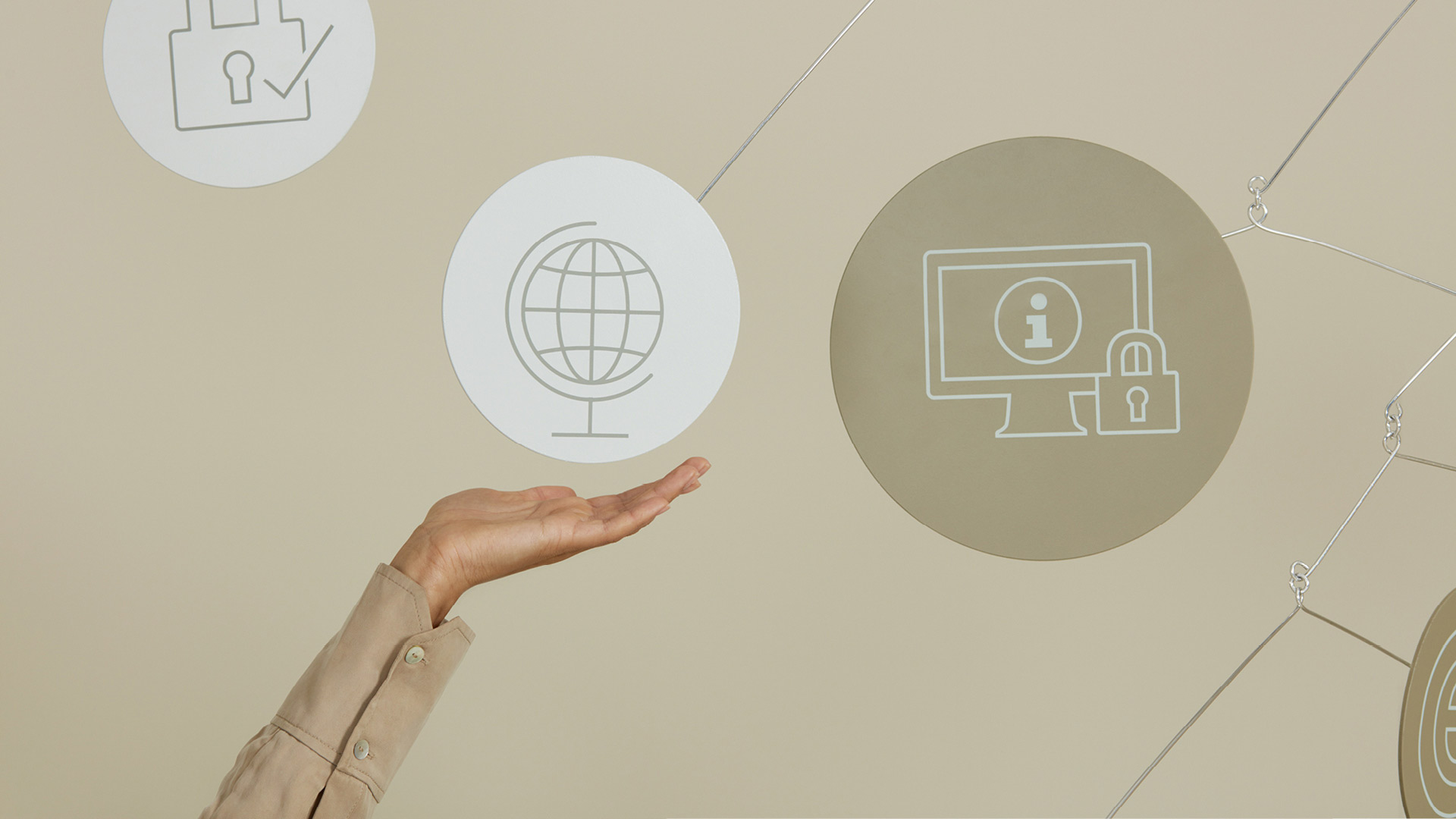 Security in e-banking
—
The tightest possible security for your banking transactions
VP Bank's high security standards are the starting-point for VP Bank e-banking. We guarantee the tightest possible security for your banking transactions.
VP Bank's security standards
Encryption in data transmission
For data transmissions between you and VP Bank, we use 256 bit SSL encryption. This is one of the highest securities standards in data transmission available today.
Certificate
A certificate is assigned to a certain organisation or person and establishes their identity. Upon installation of our e-banking, you will receive a certificate issued for VP Bank. This way you can be certain that you are actually connected to one of our servers.
Digital Signature
VP Bank e-banking is certified by a recognised certification body (SwissSign). This ensures that the site you accessed is actually published by «VP Bank».
Secure Log-in procedure
The log-in procedure to use VP Bank e-banking is based on a three-step authentication. Users identify by entering their user ID, a personal password and the token code or the mobile token.
This privacy statement describes the processing of data in conjunction with the use of e-banking and e-banking mobile services / functions.
During this use, only the data transmitted by the user to the bank will be compiled and applied exclusively for the utilisation / execution of the corresponding services / functions.
Any use or forwarding of data will be made exclusively under the currently applicable (legal) requirements and thus in keeping with the applicable data protection provisions.
Access data (such as, e.g. IP address, date and time of use, log files, etc.) will, as a matter of principle, not be disclosed to any third parties.
If the use of any functions requires that data be forwarded to third parties (in particular, for purposes of payment transactions or trade, custodianship or safekeeping of deposited items), this can be made if the user agrees with such data transfer and/or if a case applies that is described in the General Terms and Conditions under which customer data are to be disclosed. Legally prescribed disclosure obligations are therefore also covered and reserved.
The duration of a retention period for data depends on the legal requirements (as necessary under data protection provisions or special retention obligations / periods according to special standards).
Data protection law provides, in particular, for the right to receive information on the data, to have them corrected and deleted. Enquiries in this respect can be addressed to the Data Protection Officer of VP Bank AG.
VP Bank provides you with one of the best possible security standards available. However, to ensure a secure use of VP Bank e-banking and VP Bank e-banking mobile, it is indispensable that you apply highest care and attention.
The term Social Engineering Attack means a situation in which an attacker makes contact in order to exploit a person's helpfulness, credulity and uncertainty in order to obtain confidential information such as e.g. user name, passwords for e-banking or credit card information.
Please be sceptical – no reputable company would simply contact you and ask for confidential information such as your e-banking login or your credit card number.

Never allow unknown persons to access your computer for the performance of service and support work.

Please observe the other rules of conduct for dealing with passwords, e-mail, etc. that are set out on this website.

Attackers abuse their target's curiosity, vanity, obedience or greed. Don't let these things influence you.
Never answer any e-mails in which you are asked to disclose confidential data (password, user name, security token, etc.)! VP Bank will, as a matter of principle, never send you e-mails of that kind.

Ignore e-mails containing a link to start e-banking and please report such incidents immediately to the e-banking hotline. VP Bank will never send such unrequested e-mails containing a link to start the VP Bank e-banking.

Never open e-mails or attachments from unknown senders.

Never place orders via e-mail. VP Bank does not execute orders that are placed by e-mail.

Never send confidential data such as passwords, user names, account number, etc. by e-mail.

Encrypt your e-mails to protect your sensitive data.

Please delete spam or mass e-mails.
Password and VP Bank mobile token
Protect your security features (passwords, codes, etc.) against access by third parties, never write them down or save them on your computer. Never select a password that others could guess. Use capitals and lower case letters combined with figures and special characters, but never names, dates of birth, streets, street numbers, etc.

Change your password on a regular basis.

Never disclose your password to anyone, not even to the e-banking hotline or employees of VP Bank.

Never leave your smartphone unattended and never write down log-in data or your password.

Always log out by using the «Logout Button».
Always start-up VP Bank e-banking through our website www.vpbank.com and check that you are actually on the identified page. You can recognise the correct page by the «lock symbol» in the address line.

Never start VP Bank e-banking from an internet cafe.
Protect your smartphone or tablet by using a PIN code or a biometric feature (fingerprint or face ID): use the automatic block and code block of your smartphone or tablet (to be found under «Settings») to prevent any access by unauthorised persons.

Close VP Bank e-banking mobile after each use by answering the question: «Do you want to log out of VP Bank e-banking?» affirmatively with «Yes».

Never answer any e-mail enquiry asking you to enter your user name and password.

VP Bank e-banking mobile will neither store client-identifying information on the device nor download personal information from your smartphone or tablet.
Further security precautions
Protect your data by using additional software components, while you are connected to the internet.

Never install any software from unknown origin.

Never store personal, sensitive data or credit card details on untrustworthy websites.

Please install an anti-virus software to protect your computer against viruses, Trojans, etc. Always keep your anti-virus software up to date by making regular updates. The relevant software providers offer these updates as automatic downloads. Any anti-virus software must indispensably check e-mail attachments.

A firewall may protect your computer additionally against unauthorised access from the internet. A firewall acts as a kind of «gatekeeper» for internet connections and controls the data traffic between your computer and the internet.

Security loopholes are found from time to time in operating systems. These loopholes might be a threat to your computer. Please update your system regularly with operating system updates offered on the manufacturer's website.